Setting Up USPS
Learn how to connect your USPS account to buyback.ai
---
buyback.ai supports USPS MRS service. These are the labels that can be automatically generated for your customers at checkout. You and your customers are not charged for these labels until the package gets delivered. If your customer does not use the label there is no further action needed. This is especially helpful, time-saving, and cost-effective when running a mail-in buyback service at a large scale.
Please note this can take several weeks to get all of the information required to set this up from USPS. We recommend starting with FedEx or UPS returns first if you are new to buyback.

To enable the USPS Add-on you will need the following information from USPS:
User ID: this is your WebToolAPI Username
Merchant Account Code: this will be given to you upon request from your USPS Account Representative once all of the following steps have been completed.
MID: retrieve this from the "Manage Profile" page and select "view your Mailer IDs"
Location(City, State)
Zip Code
To get started you will need to create the following USPS accounts:

Business Gateway Account: https://gateway.usps.com/eAdmin/view/signin
USPS Web Tool API Account: https://www.usps.com/business/web-tools-apis/
In your USPS Business Gateway you will need to "Get Access" to the following services: see photos to get to "Manage Services"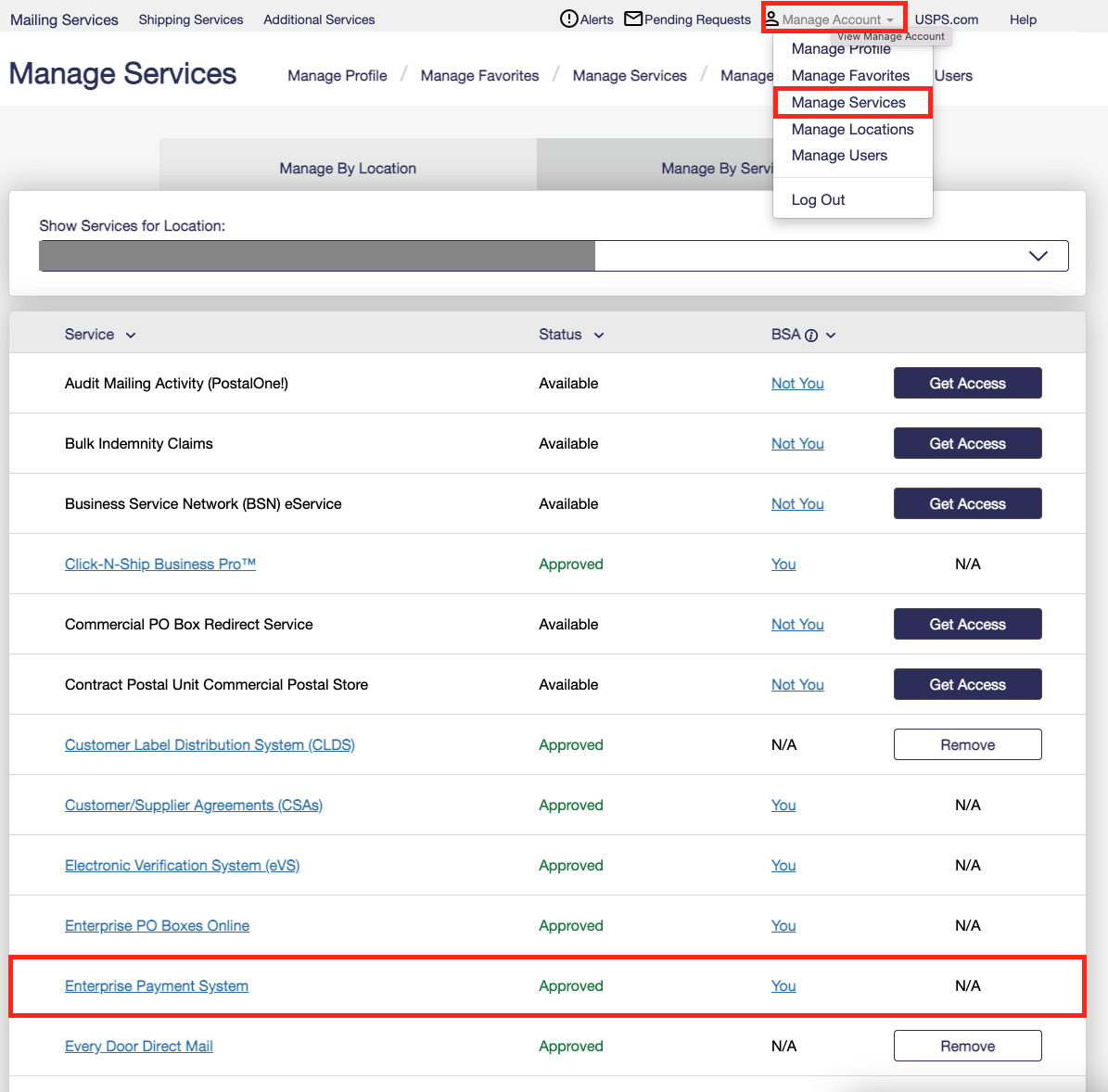 Mailer ID: Select "Get Access"

Once your request has been approved you can retrieve your Mailer ID from the Manage Profile page and select view your Mailer IDs.
Enterprise Payment System: Select "Get Access"


Select Shipping Services
Select Online Enrollment
Select "NO" for Scan Based Payment(Use tracking only)
Select Begin Enrollment
Select "Printing your own labels"
Select USPS Web Tools
Select Link to Program

Package Platform Account Management: Select "Get Access"


Select Enroll
Select Option 2: USPS Returns Enrollment

Once your request for Enterprise Payment System and Package Platform Account Management has been approved you will need to contact your local USPS account representative to request your Merchant Account Code.